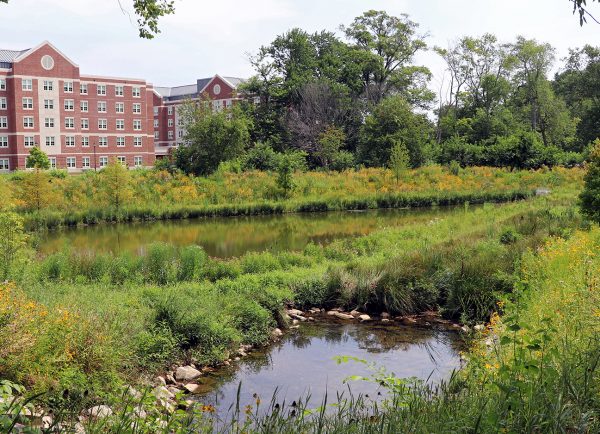 University of Delaware: Harrington Pond
Harrington Pond is a stormwater management facility located along the edge of the University of Delaware's Harrington Dormitories. Age dictated an upgrade and expansion to the site: Ground Reconsidered collaborated with the civil engineering team to ensure that the performance criteria was met, and that the pond would naturalized and develop into a functional amenity.
Prior to renovation, the pond had substantial buildup of invasive and noxious weeds that prevented a naturalized habitat from fully developing. One of our main goals was to restore and increase bio-diversity, re-establish a native habitat, and strengthen ecological relationships within the site. Harrington Pond now attracts a multitude of flora and fauna and has become an accessible amenity for the campus community to enjoy.
Ground Reconsidered also engaged in master planning and visioning efforts for future expansion of the sites into the adjacent Harrington Woodlands.
University of Delaware
Newark, DE
2017-2020