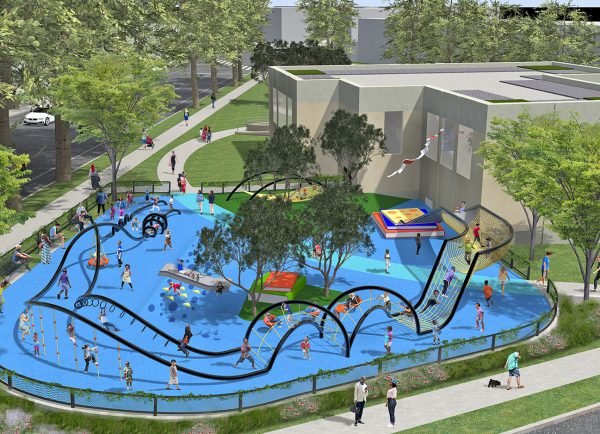 Play Structure|Story Structure: Play Space Design Competition
From a field of over 40 international design teams, Ground Reconsidered's design submission, "Play Structure|Story Structure" was selected as the winner for Learning Landscapes: Blanche A. Nixon/Cobbs Creek Branch of the Free Library of Philadelphia in the Community Design Collaborative's Play Space Design Competition. We are strong believers in the concept of learning through play. Our design was inspired by our second grade teammates' narrative descriptions of their own designs for the space. The play loop is based on the narrative structure of a dramatic work, with activities representing an introduction, rising action, climax, falling action and conclusion. Our innovative design addresses the overall accessibility of the site and finds creative ways to integrate stormwater into the educational process.
Our team consisted of Friends Select School Second Grade class, Meloria Design, Designed for Fun and JR Keller Creative Partnerships. Click here to learn more about the Play Space Competition.
Community Design Collaborative
Philadelphia, PA
2016