The play space connects children with nature.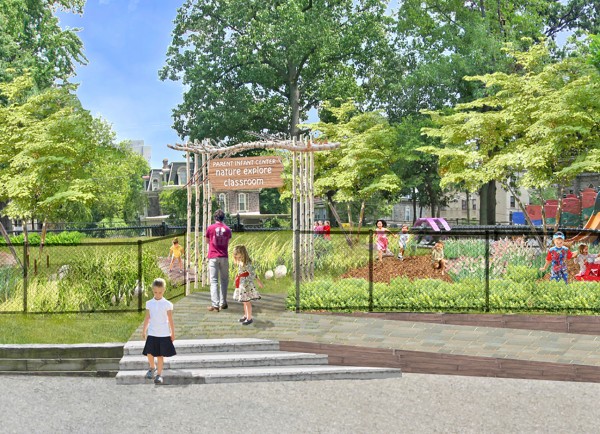 Parent Infant Center
Parent Infant Center (PIC) is a non-profit, early childcare/after school facility occupying several historic buildings and open space on an entire city block in West Philadelphia. PIC's recently expanding operations and increased enrollment have caused the outdoor activity areas to exhibit signs of extensive wear and inadequacy.
Ground Reconsidered, in collaboration with a group of stakeholders including PIC's administrators, teachers, students, parents and interested community residents, volunteered design services to create a 21st century play experience for PIC. The firm designed a play space that connects children with nature through a series of outdoor rooms for group and individual activity including, climbing, messy materials, dirt digging, music and movement, nature art, building and vegetable gardens. This immersive play environment, "Acadia Woods Magic Circle" was completed in 2014 and has been certified as a Nature Explore Classroom by the Arbor Day Foundation.
Parent Infant Center
Philadelphia, PA
2010 - 2015