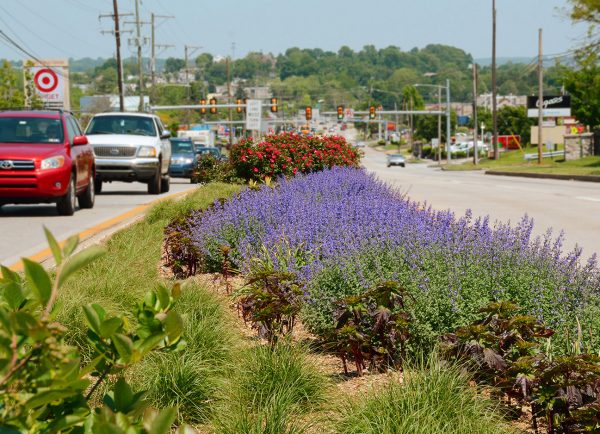 King of Prussia Landscaped Medians and Linear Park
Ground Reconsidered transformed the formerly barren medians along the King of Prussia's heavily traveled DeKalb Pike and First Avenue, along with four other major roadways into the area, with new planting designs composed of lush perennials, grasses, shrubs and trees – bringing year-round interest to these once overlooked public spaces. The plant palette was designed to be tolerant of the harsh, dry and salty conditions, and beautify and soften the spaces that line the roadways. Attributed to the new improved visual aesthetic, the area has experienced a reduction in littering, and a weekly maintenance schedule has been implemented. The medians along DeKalb Pike and First Avenue received a Beautification Award from Upper Merion Township, a Chamber of Commerce Excellence in Restoration and Property Management Award from Montgomery County, and was honored by the Pennsylvania Horticultural Society with a Community Greening Award.
Ground Reconsidered was subsequently awarded a contract to develop a conceptual plan for a new linear park spanning the length of First Avenue's business park, transforming underutilized lawn areas in front of office buildings into a cohesive, continuous, active and picturesque amenity. In 2016, a 420-foot stretch of the linear site was opened as a Demonstration Park, to act as a catalyst for executing the park design for the remainder of First Avenue.
King of Prussia Business Improvement District
King of Prussia, PA
2011 - current