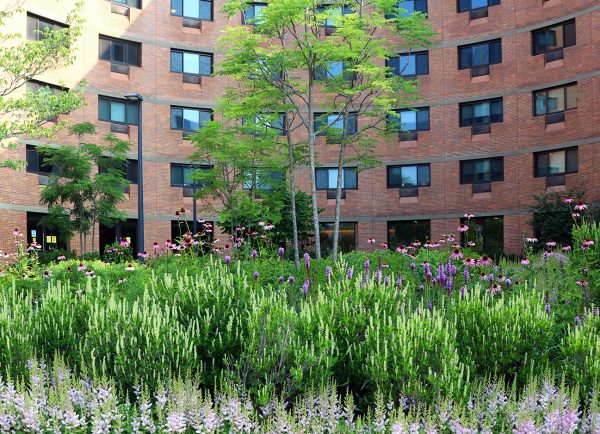 Drexel University: Bentley Hall
Originally constructed in 1972 and called Calhoun Hall, this student residential complex was designed by local Philadelphia architect, Vincent Kling. The building recently underwent a major overhaul, has been transformed into a new campus epicenter for Drexel's Honors Students, and rebranded as Bentley Hall.
The renovated complex has become a "living/learning" community. In addition to the renovated student dormitory, Bentley Hall also includes a new, 10,800 s.f., two-story glass and stone addition that houses offices and seminar rooms.
Ground Reconsidered collaborated with the project architect to redefine the exterior spaces around the original structure and the central courtyard as well as the spaces adjacent to the new addition. Our scope of work included landscape design, documentation and construction observation.
The dormitory component was competed and occupied in the summer of 2019, and the new addition, the "intellectual oasis on campus", was completed in 2020.
Solomon Cordwell Buenz
Philadelphia, PA
2020