Coxe Park is a small pocket park in Philadelphia's Logan Square neighborhood.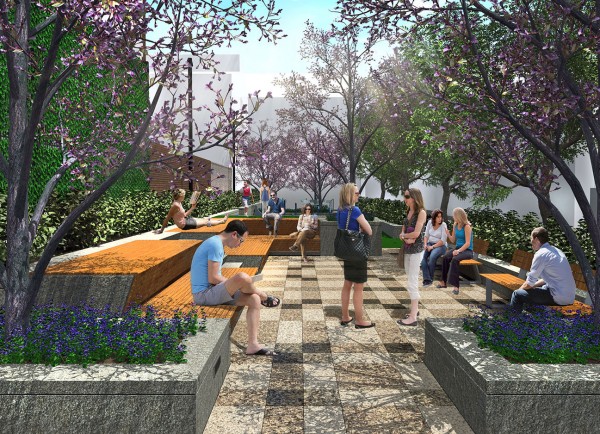 Coxe Park Competition
Ground Reconsidered was one of three firms invited to redesign Coxe Park, a small pocket park in Logan Square, originally built to unify the neighborhood through play and access to open space. The firm's new design concept remains faithful to this objective with a contemporary, playful twist. The pattern of a tartan picnic blanket, inspired by the design of the original paving, was the catalyst our design. Beechwood Blanket at Coxe Park was the winning entry and seamlessly weaves together non-traditional imaginative play, communal gathering areas and intimate social space.
The narrow dimension of the park prohibits the use of traditional play structures. The safety surface 'blanket' is draped across an undulating terrain providing opportunities for play in new and unexpected ways and the blanket's fringe emerges from the ground to form climbing and crawling elements. Continuity across the park is achieved by repeating of the paving pattern in the small plaza that provides a place of respite for adults and children alike. Funding to advance the design is being secured.
Philadelphia Parks & Recreation
Philadelphia, PA
2015