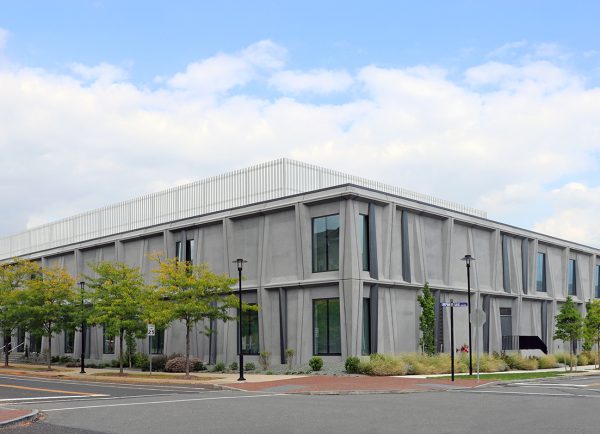 Iovance Biotherapeutics at 300 Rouse Boulevard
Ground Reconsidered was the project team's landscape architectural consultant responsible for the design, documentation and construction observation of a new biotherapeutic office, warehouse and manufacturing facility located in the Philadelphia Navy Yard. Our work included the design of a performative stormwater retention entry courtyard, a public terrace, streetscape along 11th Street, Normandy Place and Rouse Boulevard and related surrounding site elements.
After extensive evaluation, Iovance Biotherapeutics, Inc. chose the Philadelphia Navy Yard to transform a vacant lot into its new LEED Gold late-stage biotechnology facility for the commercial and clinical production of cancer immunotherapies based on tumor-infiltrating lymphocyte (TIL) technology. A smart, forward-thinking building and site design relates to the innovation happening within the building and greater Navy Yard district.
From the parking lot, where most employees and visitors arrive, the building wraps a central courtyard on three sides and is open to the parking lot. Early in the design process, the decision was made to celebrate stormwater management. In place of a traditional corporate courtyard, the entire courtyard space is a bioretention basin. Instead of an extensive green roof that would not be seen or experienced, roof runoff is managed via the basin in the courtyard, central to the daily arrival experience. In anticipation of future development of the parking lot, runoff is managed using a subsurface retention basin located with the intent to avoid removal during future development phases.
The planting palette that we developed was carefully chosen to provide biodiversity and habitat using native and adaptive species, primarily for insects and birds, while being resistant to deer grazing habits at the Navy Yard. Native trees, shrubs and other plants were selected to thrive and provide an eco-rich landscape, while also being low-maintenance in a dynamic floodplain. Now an established landscape, the planting areas only need maintenance attention a few time during the year.
Gattuso Development Partners
Philadelphia, PA
DIGSAU
Pennoni
2019 - 2021